The Pipe Shop Venue & The Wallace Venue
115 Victory Ship Way, North Vancouver, BC V7L 0B2
North Vancouver is located mere minutes from Downtown Vancouver and is a short 45 minute drive from Vancouver International Airport (YVR).
North Vancouver's past and present meet up in The Shipyards District, also known as Lower Lonsdale. In this neighbourhood, you'll find shipbuilding and where the working tugboats live as well as boutiques, specialty food shops, galleries, craft breweries, distillery, cidery, and restaurants of every description, antique stores and of course, The Pipe Shop Venue.
Lower Lonsdale is North Vancouver's oldest neighbourhood, steeped in history and bursting with shops, restaurants, cafés and pubs that truly capture the unique spirit of the North Shore. The area extends four blocks up Lonsdale Avenue and two blocks east and west, but its heart is at The Shipyards.
Accommodations
Here a few recommendations for places to stay in North Vancouver with special Shared Mobility Rocks discount codes that you can use.
It's a unique, stylish place to call home while you stay in North Vancouver. With state-of-art amenities, signature designed guest rooms and unbeatable linens, Seaside gives you a taste of real luxury with views of everything waiting to be discovered. Each room echoes the natural world nearby with natural wood detailing, exquisite marble bathrooms with dazzling chrome finishes and a large reclaimed wood focal wall to bring the forest into your room.
Discount Code: SMR 2023
Conference Rate: $486 per night
Booking Window: Sept 11–14, 2023
Rate Expires: August 11, 2023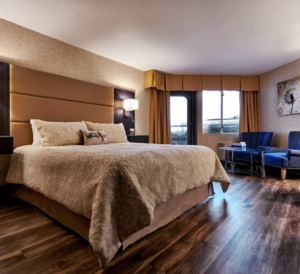 Located in the heart of downtown North Vancouver and minutes within walking distance to all attractions, including shops, restaurants and parks. If you're looking for an intimate hotel with friendly service and convenient access to all things Vancouver, Lonsdale Quay Hotel is your home away from home.
Discount Code: SMR2023
Room Options:
1) Executive Room with One King Bed (Partial Waterfront view room) – $369 + fees
2) Executive Room with 2 Queen Beds (Partial Waterfront view room) – $369 + fees
3) Executive Room with 1 Queen Bed1 (Partial Waterfront view room)  – $364 + fees
Please note that the booking or access code is "SMR2023" and it would be a minimum 3 night stay booking from September 11th 2023 -September 14th 2023.
The cancellation date would be 60 days prior to the check-in date. By following this policy , there will be No Refunds or Cancellations post the 12th of July 2023.
The Econo Lodge® North Vancouver hotel offers travellers a convenient location at a convenient price. Located within minutes of Lions Gate Bridge, we're one of the closest hotels near Stanley Park in Vancouver, BC, as well as other major attractions.
Discount Code: LSMR23
Conference Rate: Rooms starting at $150 per night